ROOT & CELLAR (Au-Ag, Cu), Newfoundland
Root & Cellar is being explored for epithermal-type gold-silver mineralization though also has indications and potential for porphyry copper. It sits within the Avalon Geological Terrane the same terrane that hosts the Shot Rock LSE discovery.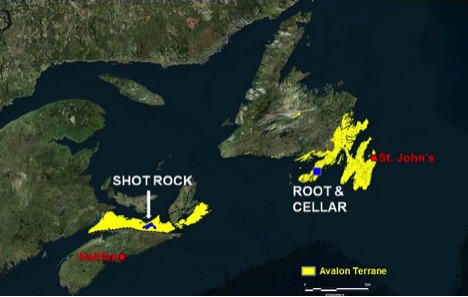 The property is located near Marystown and Creston on the Burin Peninsula, a three-hour drive from St. John's.
Root & Cellar hosts several recently discovered, high grade epithermal gold occurrences with grades up to 47.9 g/t gold and 1,365 silver. Two clusters of copper mineralization with grades up to 10.4% Copper have also been discovered and may point to a porphyry type mineralization.
The Property includes six distinct showings of which four were the result of the sustained and diligent work by local prospector, Mr. Jeffery Brushett whom made the discoveries after following up on anomalous till and lake sediment samples collected by the government as part of a regional program.
These include:
Drop Zone: with assays to 45.5 g/t Au and 1,365 g/t Ag and characterized by the presence of hessite (a silver telluride;)
Conquest: an area now measuring approximately 500m x 700 with 85 of 153 samples assaying greater than 100 ppb Au including channel samples assaying up to 47.9 g/t Au and a recently collected float sample assaying 26 g/t Au
Windfall: a 200 m wide, gold-bearing fault zone where sampling along a single traverse of the zone identified 29 samples assaying between 0.1 and 17 g/t Au and up to 58 g/t Ag. The discovery was made following up on gold and silver anomalous soil samples collected by Northern Shield in 2020. The mineralization at Windfall is related to an ENE trending fault zone and is exposed over a 200 metre thickness at this point. The Drop Zone and Braxton-Bradley showings are located along the same structure and have similar geochemical signatures.
Red Rock: up to 2.2 g/t Au hosted in a boulder adjacent to strongly hematized quartz breccia. Such rocks are often observed at the top of low-sulphidation systems.
Creston: up 72 samples collected from Root & Cellar assay > 0.1% Cu with 13 > 1% and, a high of 10.5% Cu. The best copper mineralization is exposed in a quarry at Creston hosted in vent breccias and hydrothermally altered mafic volcanics to 10.5% Cu associated with anomalous Mo, Ag, Zn and Pb and hosted in epidote and hematite altered veins in what may be a porphyry style setting.
Copper porphyries and epithermal gold are end members of the same system.
Braxton-Bradley Zone: possible intermediate-sulphidation setting with deformed silicified hydrothermal breccias and anomalous bedrock gold assays up to 0.9 g/t Au and 2.3 g/t Au in angular samples of float. Other associated assays reported from this zone include 1.8 oz/t Ag (62 g/t Ag) to 4 oz/t Ag (137 g/t Ag), 0.3% Pb, 1.9% Zn, and 1.7% Cu.
Of all the showings, only Bradley-Braxton has seen any exploration prior to Northern Shield optioning the Property. Exploration at Braxton-Bradley culminated in 3 drill-holes to a maximum depth of 50m. All three holes intersected anomalous gold (up to 663 ppb Au).
Regional Geology
The Avalon Terrane in the Burin Peninsula area hosts at least 8 known epithermal gold occurrences (mostly high sulphidation) not including Root & Cellar. Most of these have not be subject to concerted exploration over the years and are still poorly understood.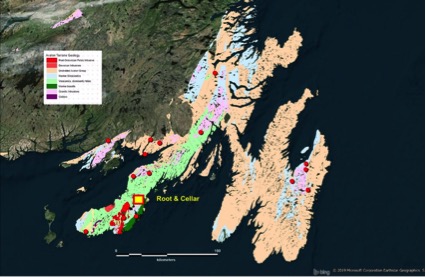 Root & Cellar hosts 5 gold showings and a copper occurrence best exposed in a quarry at Creston. Numerous other gold and copper-bearing samples have been collected through the property.
It was initially assumed that the gold mineralization at Root & Cellar was the product of a low sulphidation epithermal system. However, fieldwork carried out by Northern Shield indicates a more complex system;
• a variety of host rocks
• a variety of metal ratios
• a variety of mineralization types;
o large quartz veins
o stockwork quartz veins
o magmatic and hydrothermal breccias
o disseminated sulphides
• and multiple and overlapping alteration phases
It is now believed the gold mineralization to be the product of a deformed meso- to (high sulphidation) epithermal gold-silver systems, likely associated with a buried copper porphyry.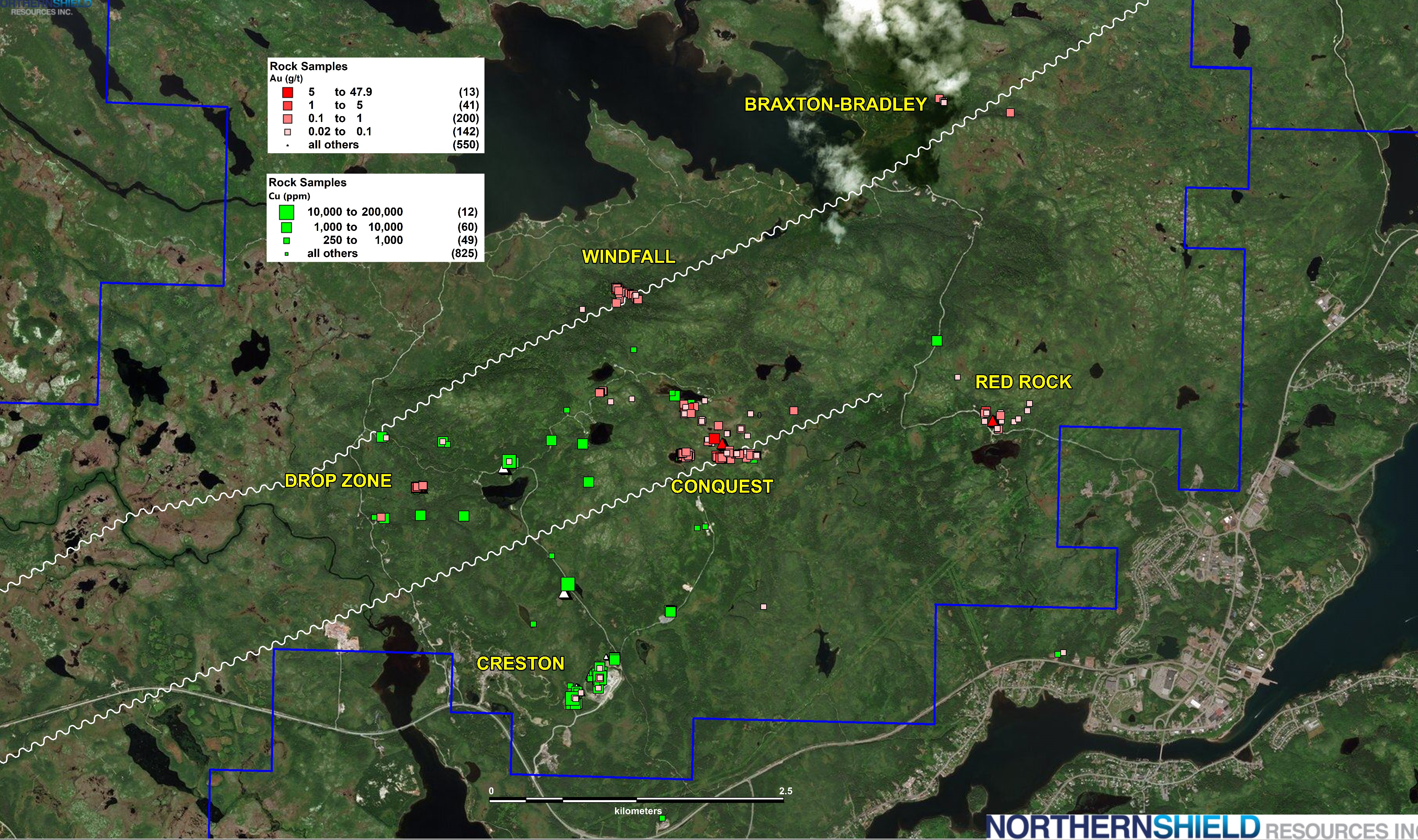 Conquest
The Conquest Zone measures approximately 500m x 700 with 85 of 153 samples assaying greater than 100 ppb Au. The Conquest Zone was discovered in 2013 when outcrop sampling returned assay values of 2.67g/t Au and 1.44g/t in sample. Further prospecting in 2014 and 2015 produced encouraging results, and channel sampling in 2016 returned values with a high of 47.85g/t Au over 0.5 metres. Visible gold was also noted in the outcrop. Soil sampling by Northern Shield in 2020 suggest the zone may continue a further 700 meters eastward. The Conquest Zone strikes E-W to ENE.
Stockwork epithermal veins are common in the Conquest Zone and typical carry anomalous gold in the 100s of ppb level and are hosted in bleached (silica-sericite altered) mafic volcanic and felsic fragmental. Potassic alteration is also common and quite strong. The higher-grade mineralization is exposed in an outcrop exhibiting stronger deformation and increased pyrite concentration and brecciation. At the western end of the Conquest Zone, gold is found in a strongly potassic altered felsic dome complex in association with quartz stringers, epidote alteration and specular hematite veinlets and clots.
The mineralization at Conquest is strongly associated with elevated As and Sb and differs from Drop Zone, Windfall and Braxton-Bradley in its lower silver values (gold:silver ratios generally > 1).
Brecciated quartz-chlorite-pyrite altered mafic volcanic - 47 g/t Au
Visible gold (circled)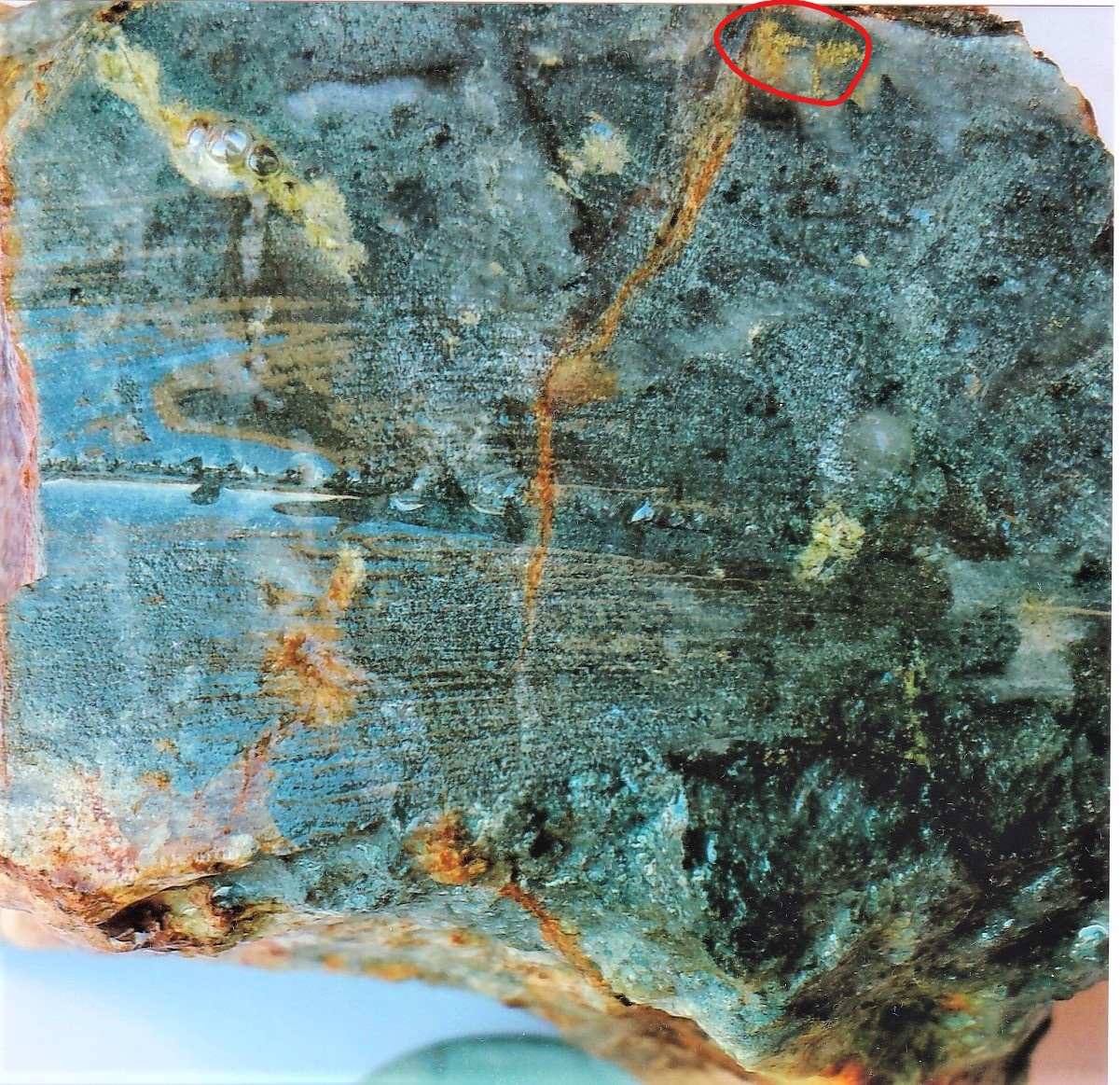 Stockwork quartz veining - 100 ppb Au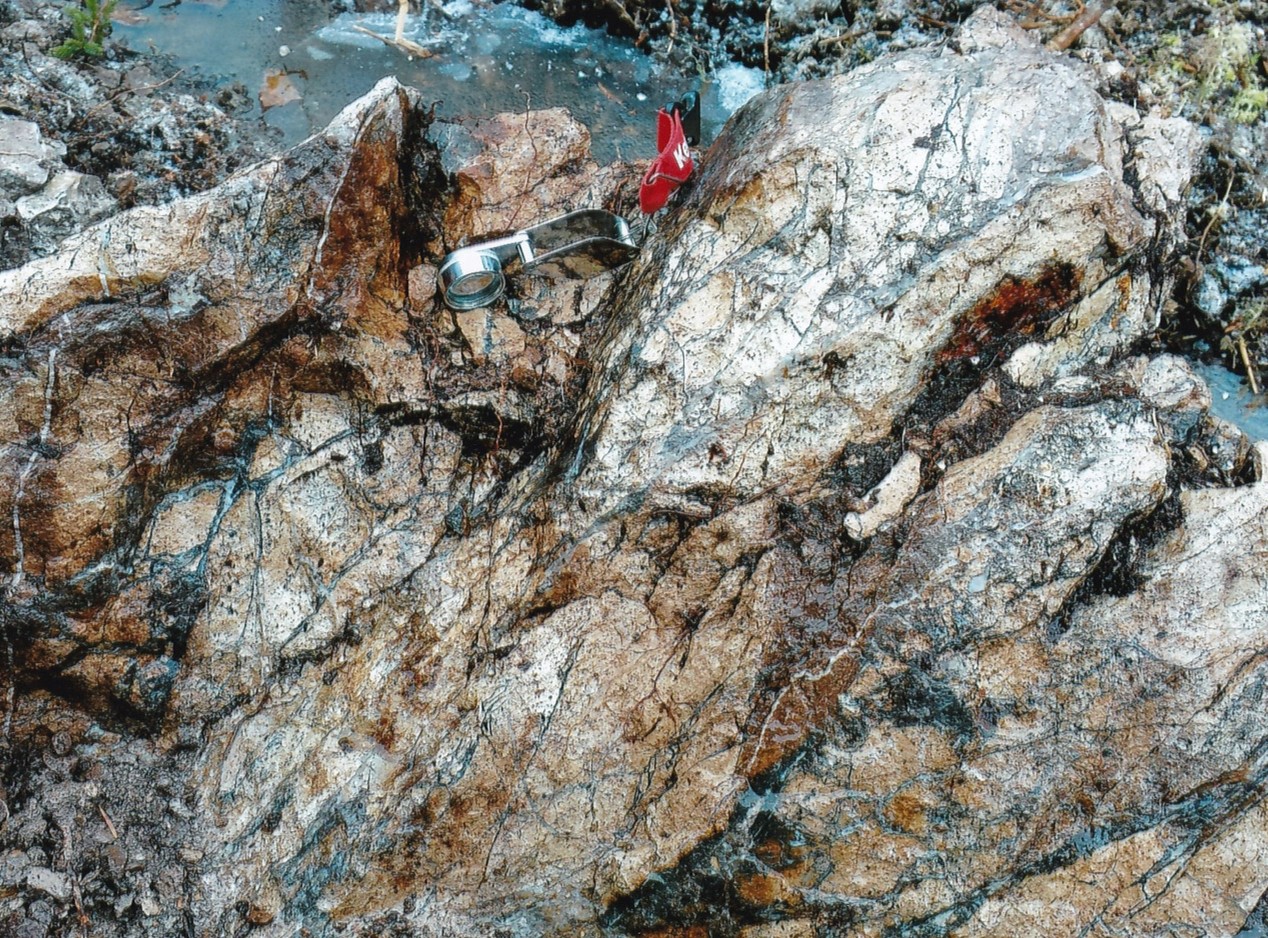 Polished slab of stockwork veining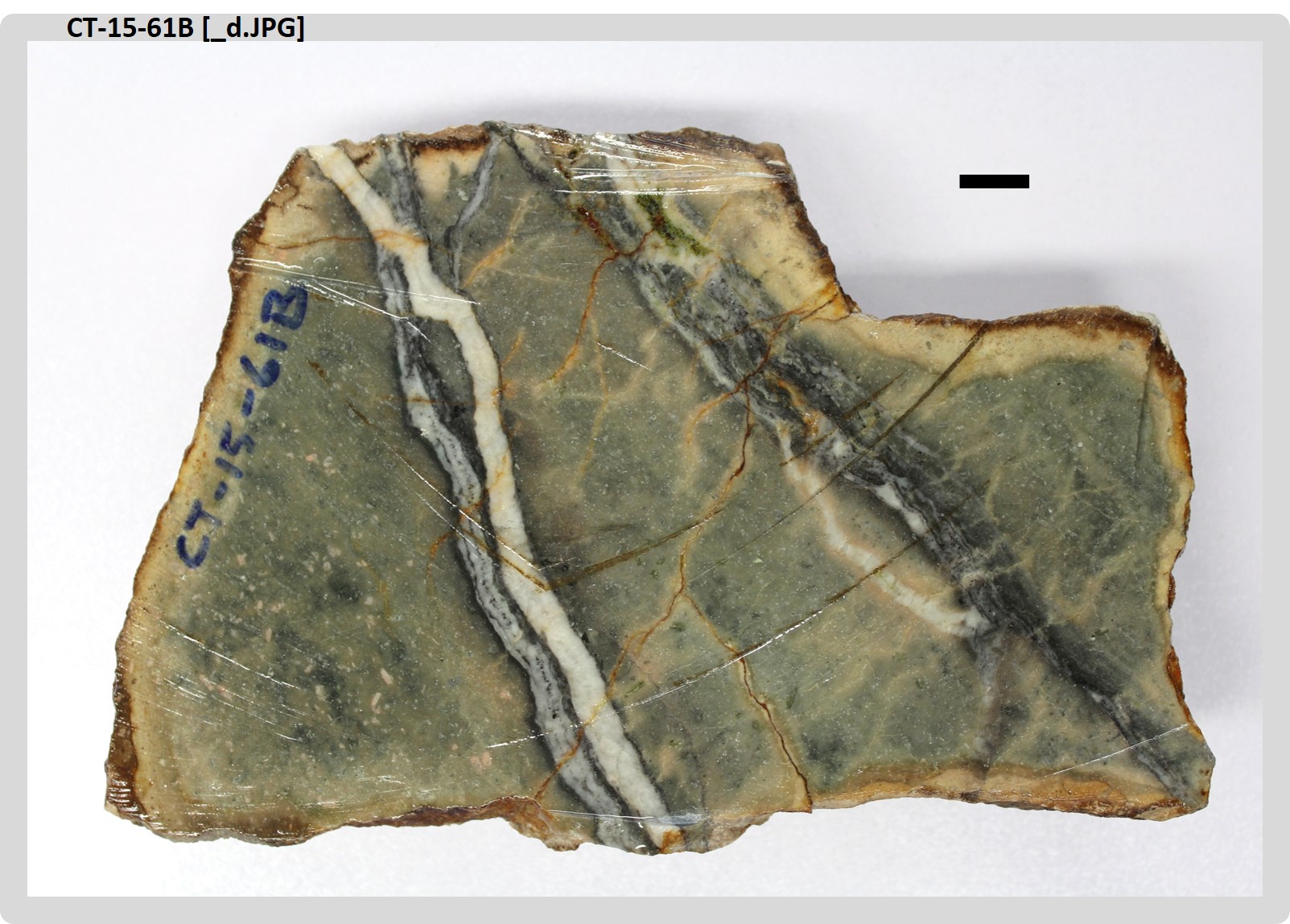 Rhyolite Dome - Potassic altered rhyolite with the epidote and specular hematite filling fractures - 0.3 g/t Au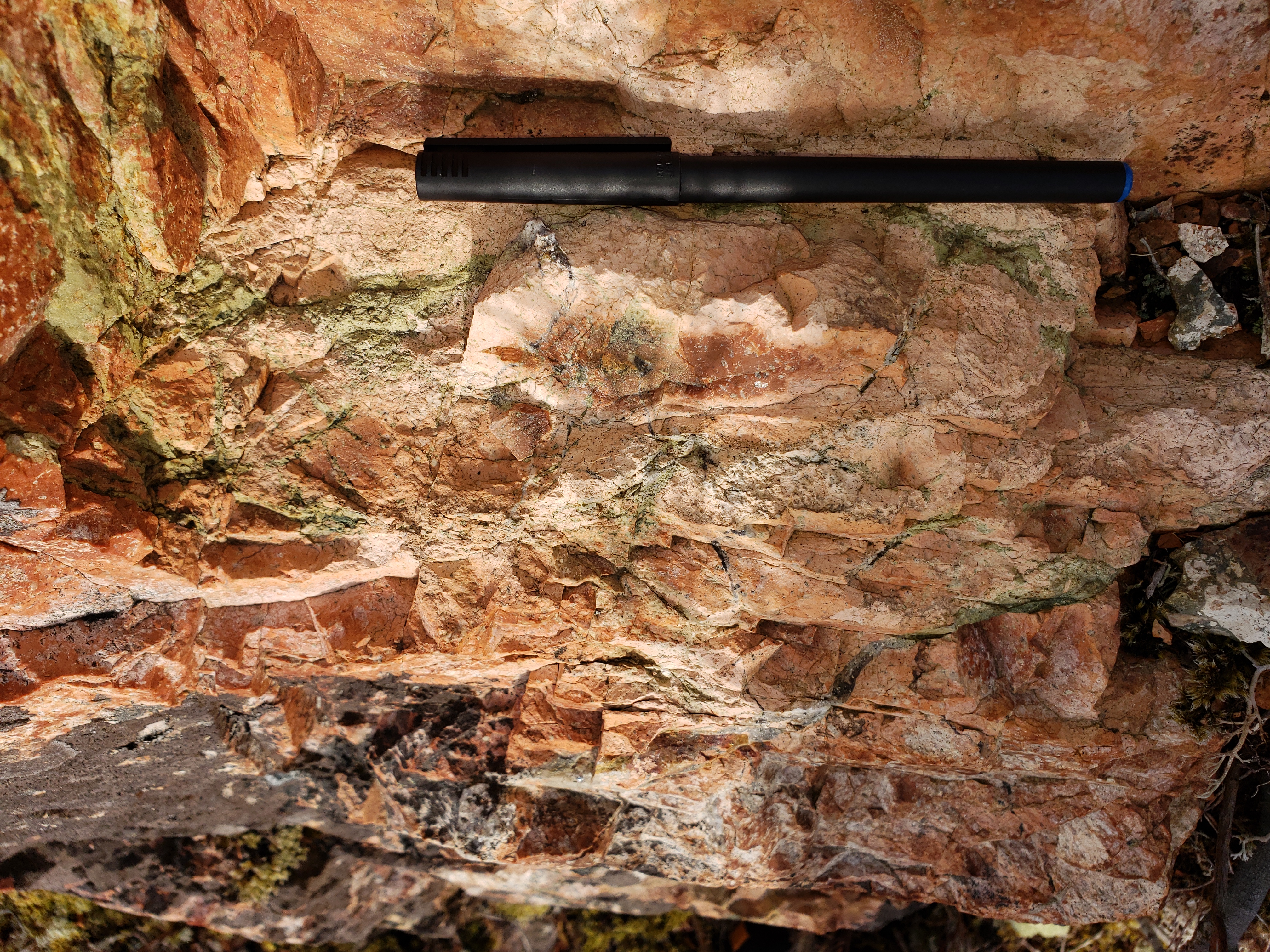 Potassic altered rhyolite with epidote and specular hematite filling fractures - 0.8 g/t Au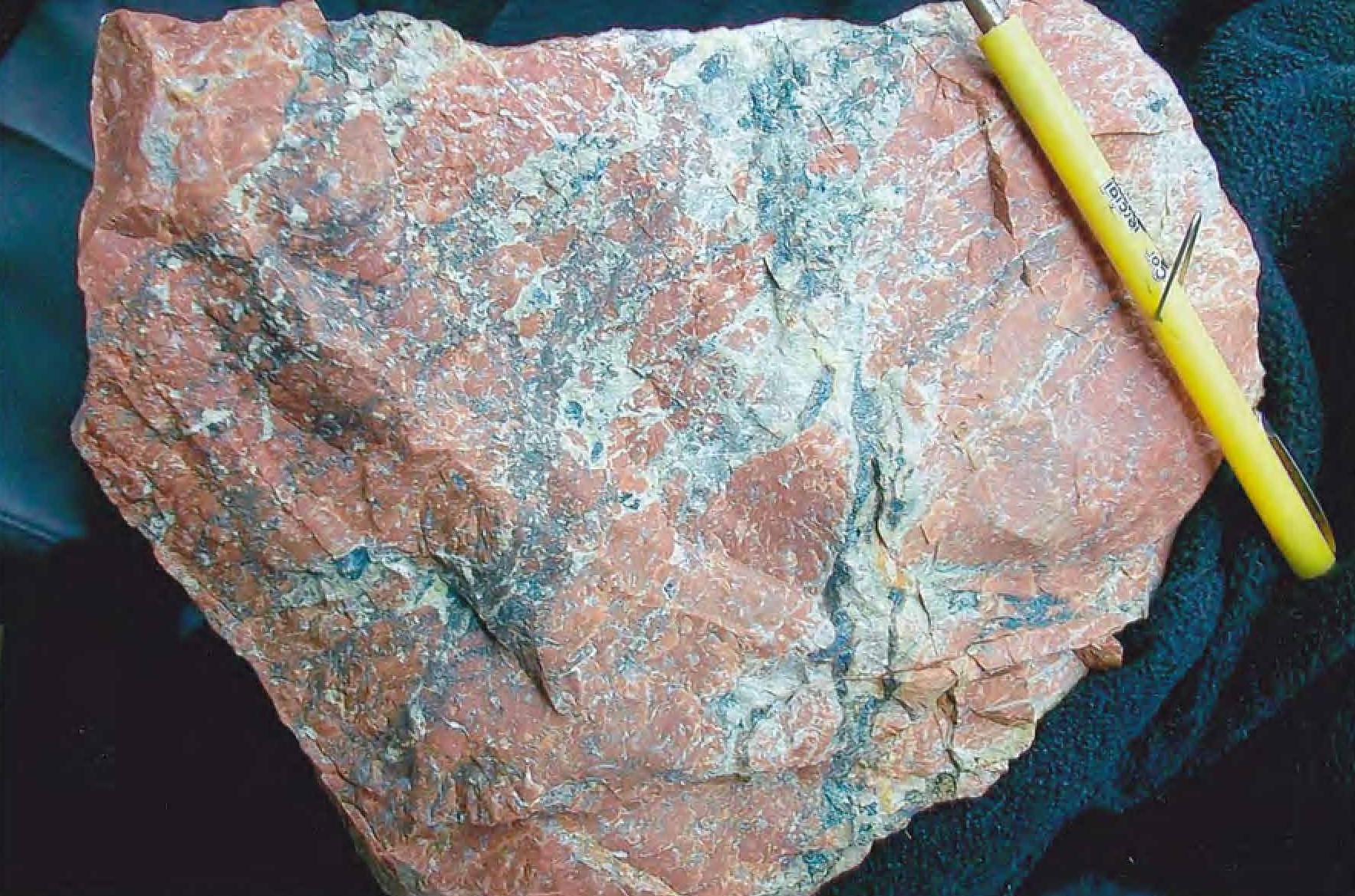 Rhyolite Dome-Potassic altered rhyolite with quartz stringers - 0.3 g/t Au

Drop Zone
The Drop Zone is an area of hydrothermal alteration and structural disruption at the western extents of the Property. Assays for the zone returned highlight values of 45.7g/t Au and 1,360 g/t Ag in outcrop. The mineralization is associated with tellurium (up to 700 ppm) which is manifest in the mineral hessite, a silver telluride. The showing is also anomalous in As, Sb and Mo, with nearby float samples of quartz veins containing elevated Cu, Pb and Zn.
Drop Zone occurs within felsic volcanics at the intersection of an offshoot tensional vein system to a primary shear zone. Alteration and mineralization occur as epithermal style penetrative silicification with sericitic and potassic alteration as important constituents. Silicification at the zone is a chalcedonic variety, and the margins of the veins grade into the surrounding host rock over several centimetres thus blurring the vein edges into the surrounding rock. Similar silicification styles can be observed elsewhere on the property, but with lesser sericitic and potassic alteration components.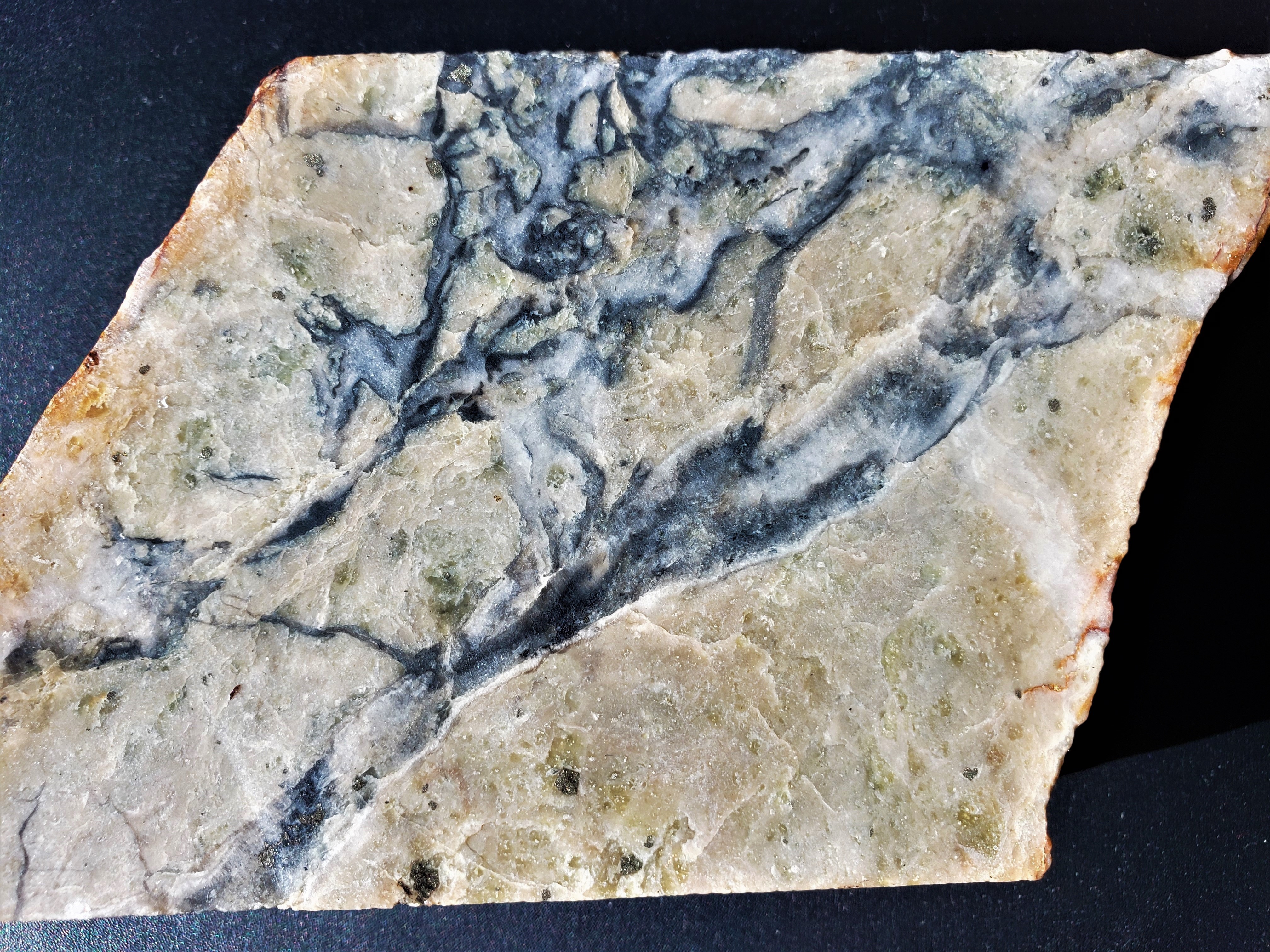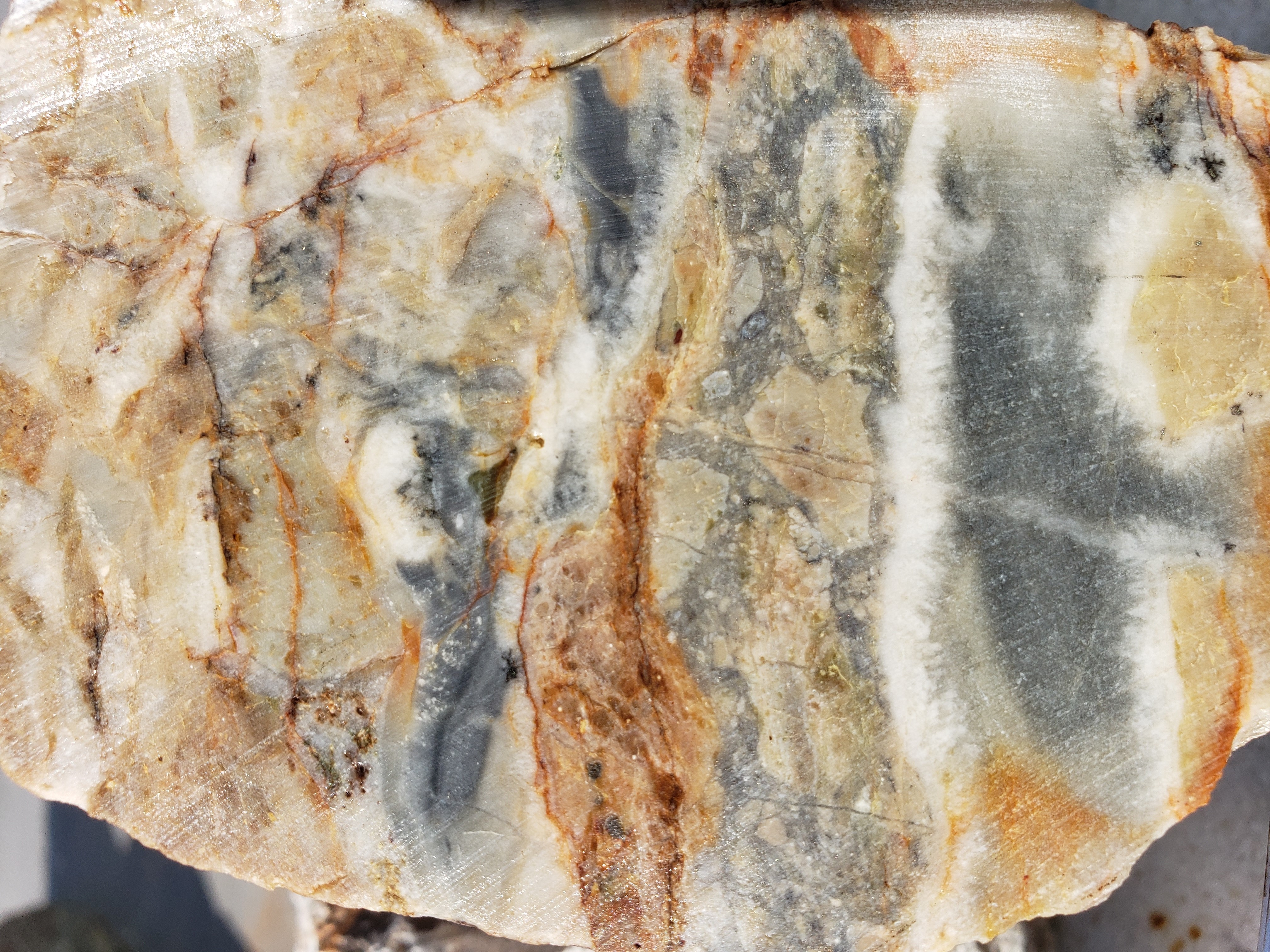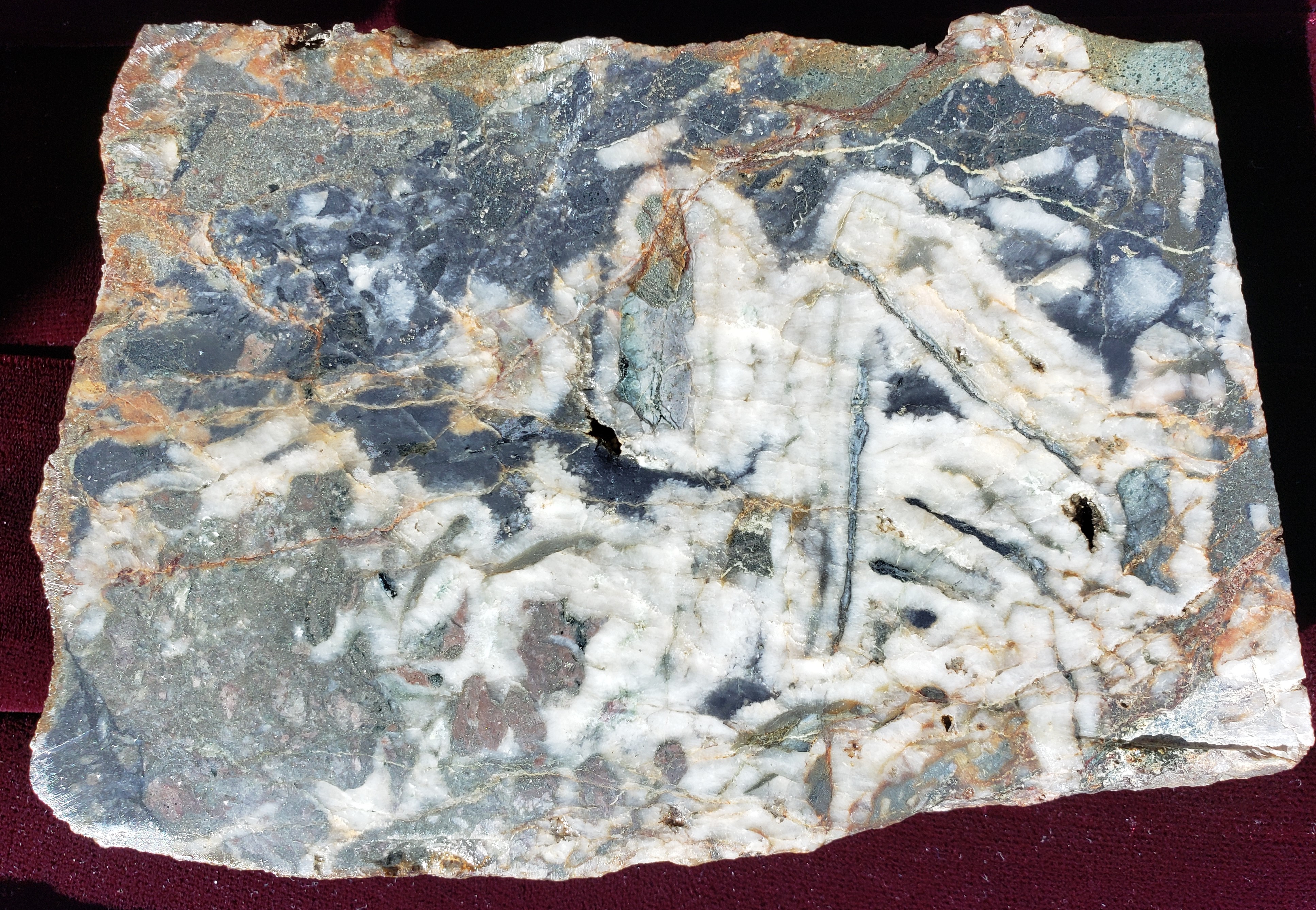 Windfall
The Windfall Zone was discovered on following up on highly anomalous (up to 493ppb Au) soil sampling during 2020 season. Prospecting led to float discovery with cm-scale clusters of pyrite within a chloritic schist and subsequently to high-grade gold in boulders and outcrop with highlight samples assaying 1.95g/t, 4.39g/t, 17g/t and 53 g/t Ag.
Windfall is located at the intersection of an ESE trending fault with a district-scale ENE trending structure. Twenty-five of 49 samples collected along a single traverse of this structure assayed between 0.1 and 17 g/t Au and up to 53 g/t Ag. The gold-bearing quartz boulders (and one outcrop) were found almost continuously over a traverse of a 200 m wide deformation zone that marks the contact between a volcanic sequence that dominates the Root & Cellar Property and underlying metasedimentary (?) rocks.
Mineralization and alteration are complex with silica-sericite-pyrite alteration overprinting a chlorite-pyrite schist. The gold and silver are dominantly hosted in quartz-carbonate veins that intrude along the ENE-trending silica-sericite-pyrite altered structural zone. Silver to gold ratios vary from 70:1 to 1:1 in the highest gold sample. Precious metals are generally associated with elevated Pb and As with zones of strongly anomalous Te, Mo, Zn and Cu. Elevated Mn along with a pinkish-orange carbonate is suggestive of the presence of rhodochrosite or another Mn-carbonate.
Many of the veins exhibit a crustiform-type banding indicative of an epithermal component to the system.
The showing is at the western end of a 1,500 m long gold-in-soil anomaly that coincides with the ENE district structure.
Map showing gold-bearing samples (red squares) across 200 meter traverse of fault zone. The gold-silver occurrence at Windfall shows distinct metal zonation with the souther end being molybdenum-rich and the northern end being more silver-rich. Several samples at the northern end are also elevated in copper and zinc.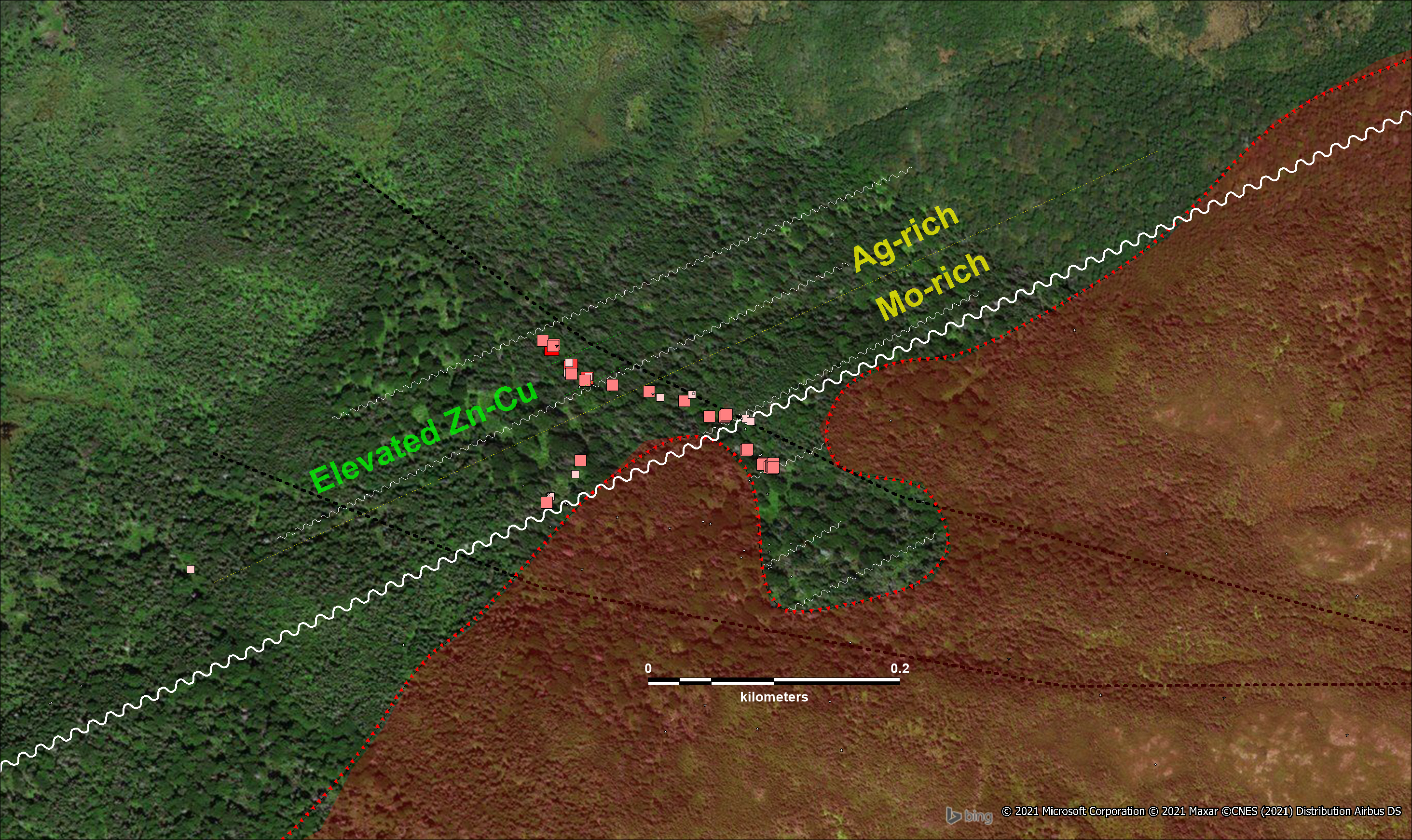 Crustiform banded quartz-carbonate vein - 4.4 g/t Au, 19.5 g/t Ag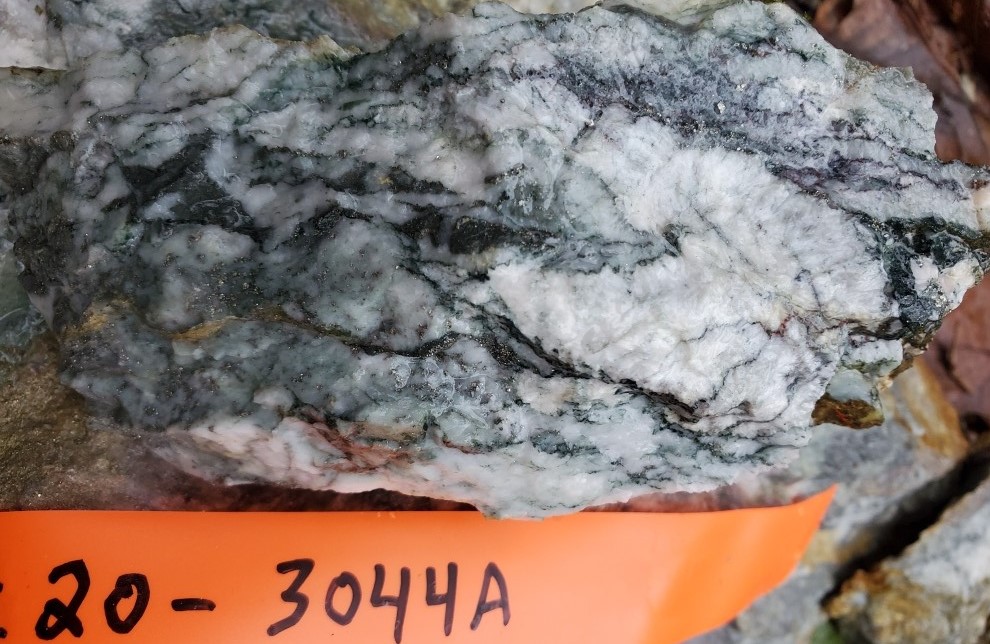 Quartz-carbonate-marcasite vein and silcified and pyritic wall rock 17 g/t Au, 17 g/t Ag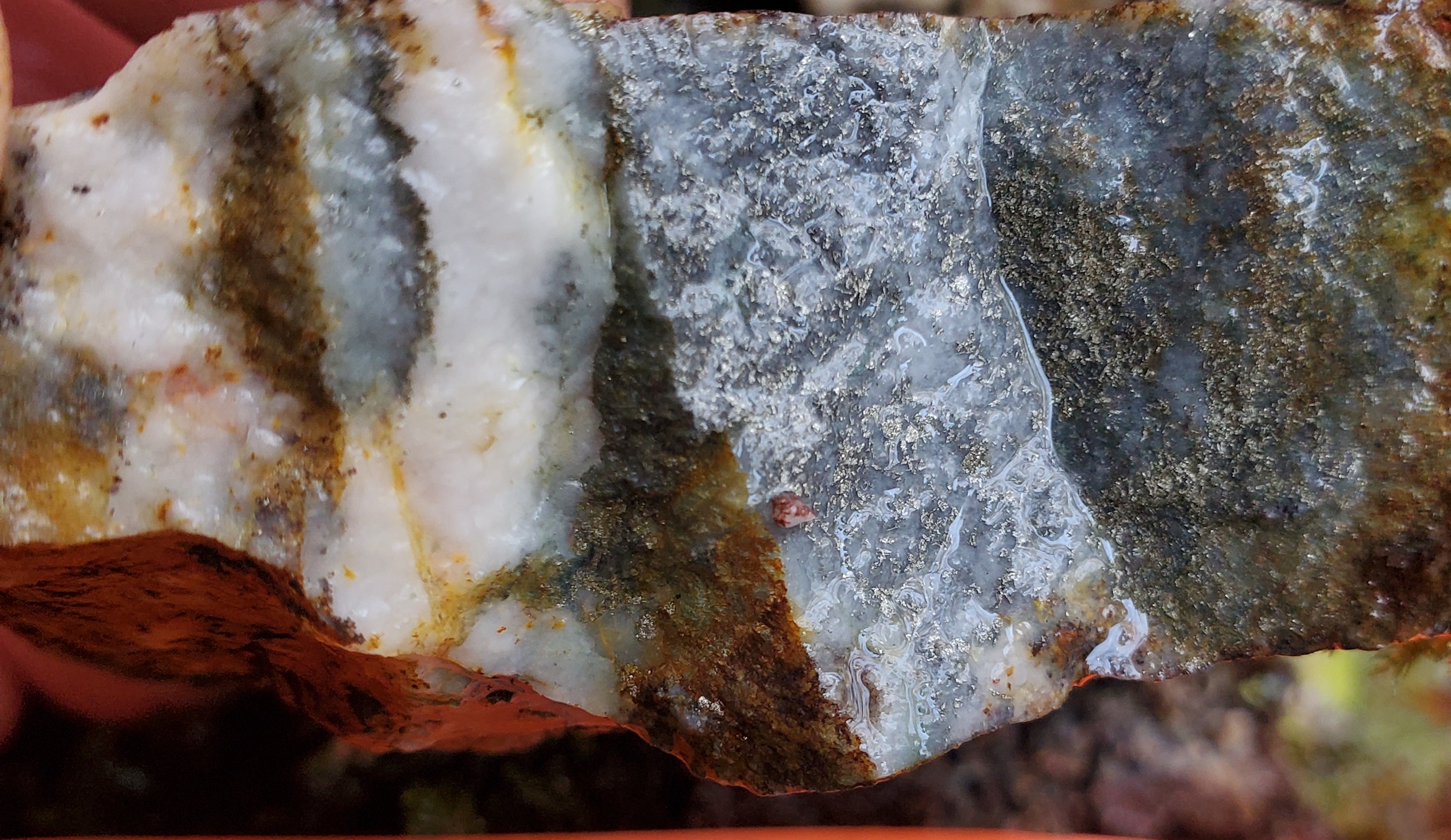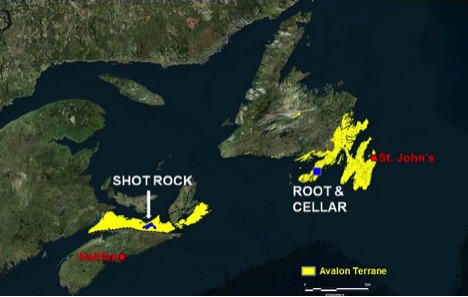 Completely silicified mafic volcanic rock containing disseminated sulphides that has subsequently hydrothermally brecciated. Note the ginguro-like rind to some of the fragments. That band contains fine, silvery-bue to greyis-black metallic particles.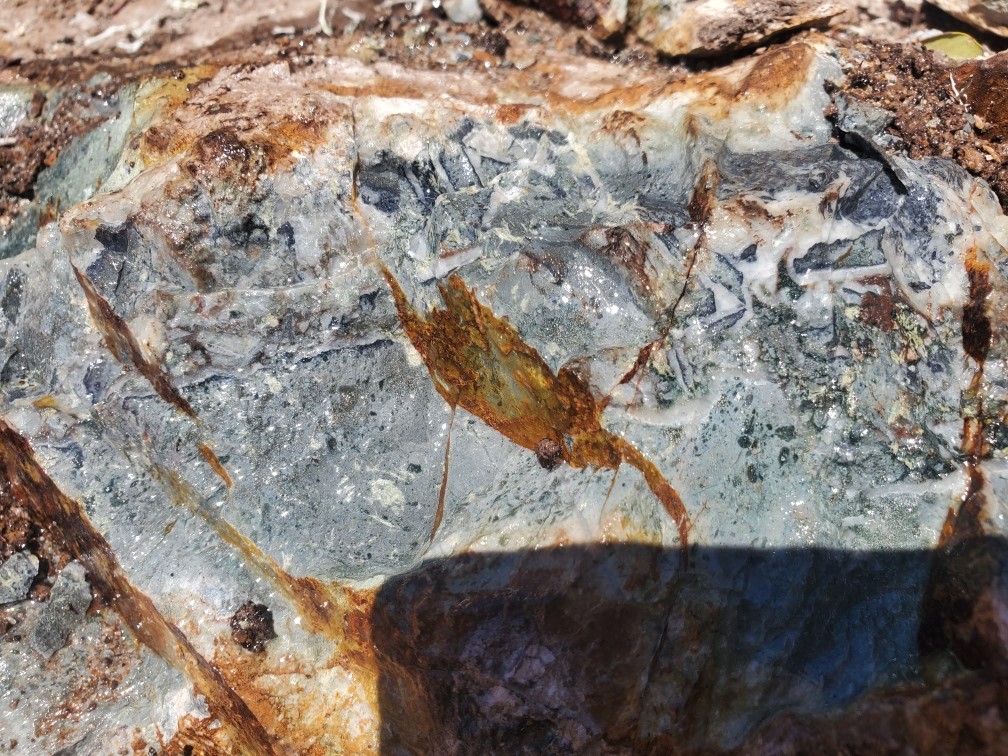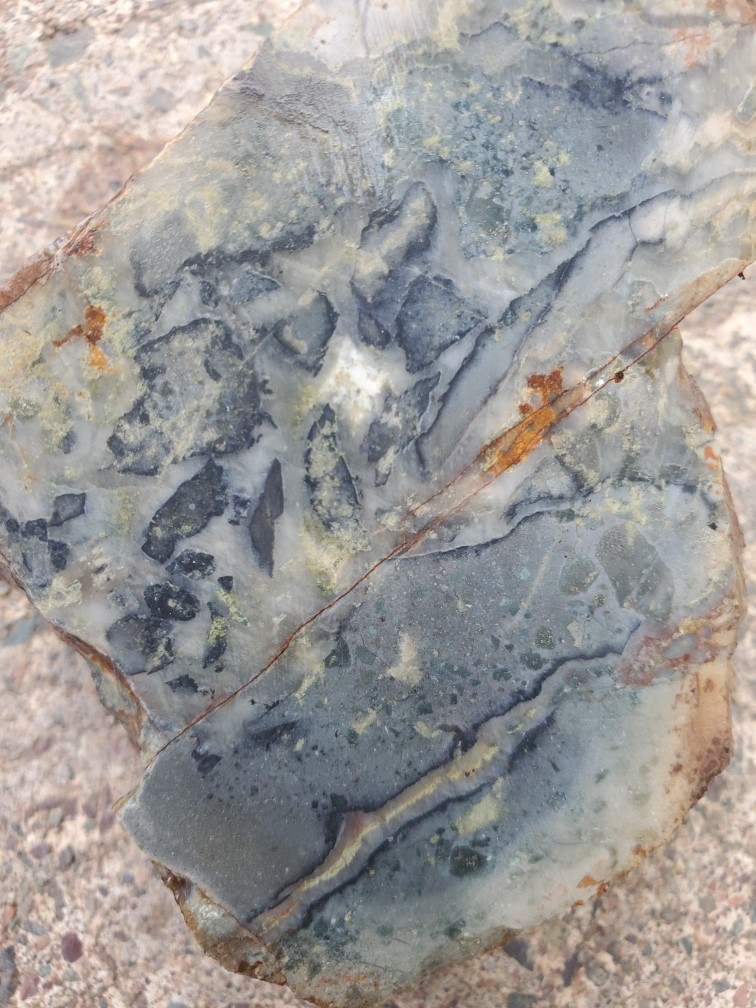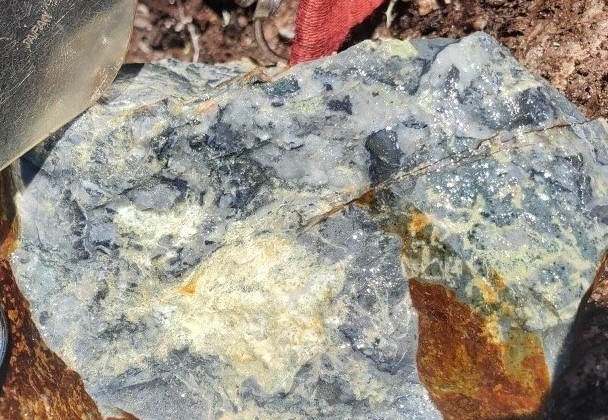 Boulder found near the rhyolite dome at the western end of the Conquest Zone. Sample exhibits fragments of strongly acid leached volcanic rock brecciated and cut by chalcedonic quartz veins. Such rocks are indicative above epithermal systems.