ROOT & CELLAR (Au), Newfoundland
Root & Cellar is being explored for (LSE) low sulfidation epithermal-type gold mineralization and also has potential for copper porphyry style mineralization. It sits within the Avalon Geological Terrane the same terrane that hosts the Shot Rock LSE discovery.
The Property consists of 12 mineral licenses covering approximately 30 square kilometres and located near Marystown and Creston on the Burin Peninsula, a three-hour drive from St. John's. both of which provide deep water ports.
Root & Cellar hosts several recently discovered, high grade epithermal gold occurrences with grades up to 47.9 g/t gold and 1,365 silver. Two clusters of copper mineralization with grades up to 10.4% Copper have also been discovered and may point to a porphyry type mineralization.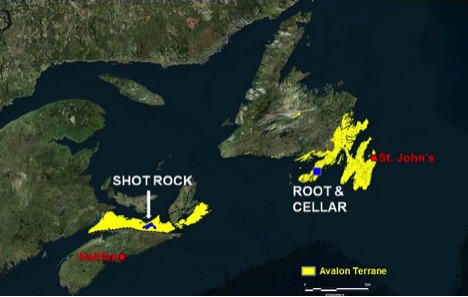 Regional Geology
The Avalon Terrane in the Burin Peninsula area hosts at least 8 known epithermal gold occurrences (mostly high sulphidation) not including Root & Cellar. Most of these have not be subject to concerted exploration over the years and are still poorly understood.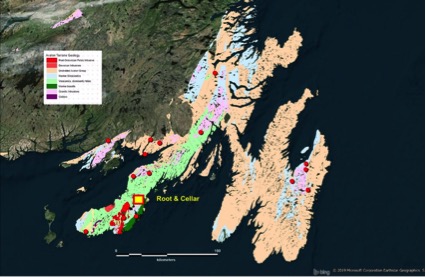 The Root & Cellar Property (AKA Creston) hosts 4 gold showings over a strike-length of 5 kilometres. Of these, only Bradley-Braxton has seen any exploration which only amounted to 3 drill-holes to a maximum depth of 50m. All three holes intersected anomalous gold (up to 663 ppb Au). The epithermal nature of the mineralization was subsequently recognized.
However, persistent work by local prospector, Jeff Brushett led to the discovery of three other gold showings and two clusters of copper mineralization.
The Conquest and Drops Zones appear significant, not only for their high grades but the extensive nature of lower grade mineralization.
Conquest Zone
Eighty-five of 153 samples collected by the prospector assayed greater than 100 ppb Au in an area measuring 550 x 650 metres, with localized higher grades including channel samples assaying 47.9 g/t Au and 5.6 g/t Au, each over 0.5 metres. Mineralization is associated with comb-textured quartz and pale beige chalcedonic silica veins.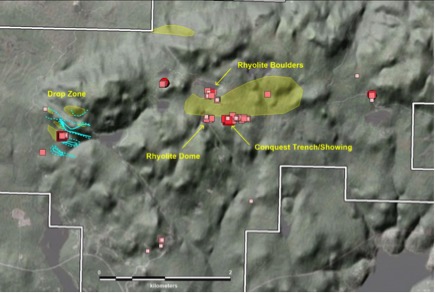 A pilot-scale soil survey completed in the late summer of 2019 defined a 1.4 kilometre long, 2-300 metre wide gold-in-soil anomaly that is bounded on the south by the gold-bearing Conquest Zone (up to 47.9 g/t Au) and Rhyolite Dome and to the north by several previously collected gold anomalous rhyolite boulders.

Drop Zone
The Drop Zone showing is characterized by the presence of significant silver and tellurium with assays up to 45 g/t Au, 1,365 g.t Ag and 700 g/t Te. The silver and tellurium are hosted in the mineral hessite (silver telluride). The hessite occurs as coatings on pyrite and free grains.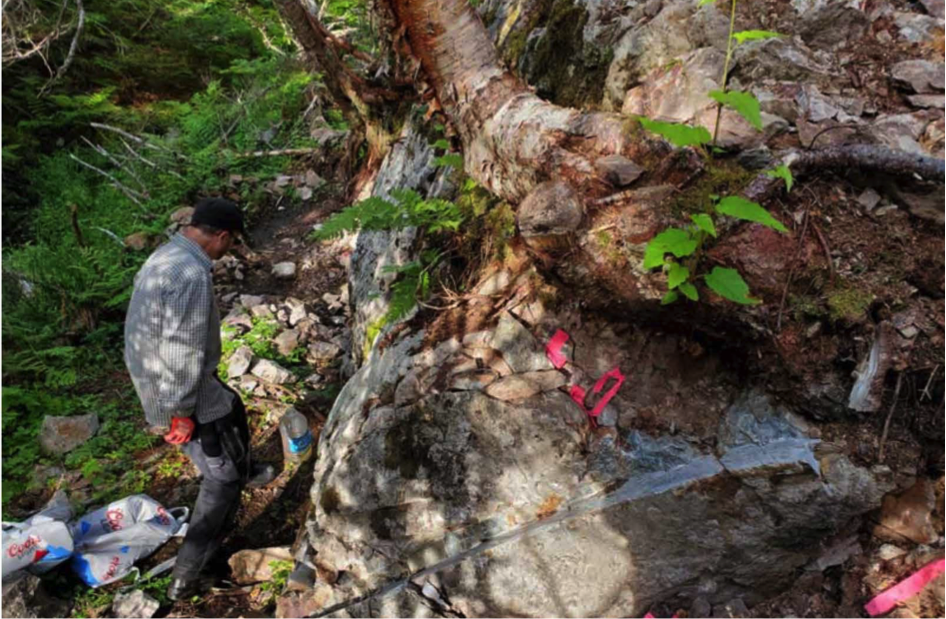 Drop Zone Showing
A pilot-scale soil survey completed in the late summer of 2019 clearly defines the Drop Zone area to be distinctly anomalous in Ag, +/- Au, +/- Te and would suggest 3-4 EWE trending parallel zones.   The soil geochemistry mimics that of the known mineralization in the showings. Boulders containing hessite have since been discovered within Zone 1.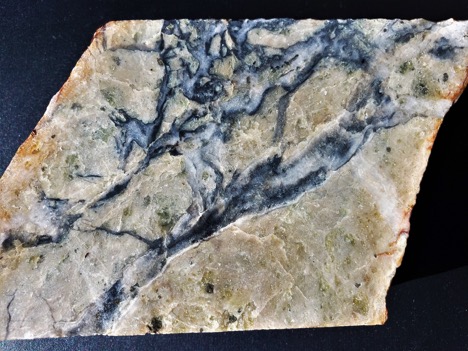 Quartz veins cutting highly altered andesite from Drop Zone. Black material in quartz vein is pyrite dusted in hessite.